Army AFD CSD Canteen Online Registration 2023 | CSD Canteen Online Login | CSD Portal Login | AFD CSD Online Registration | Army Canteen Enrollment | Military Canteen Online Link | CSD Canteen Registration Form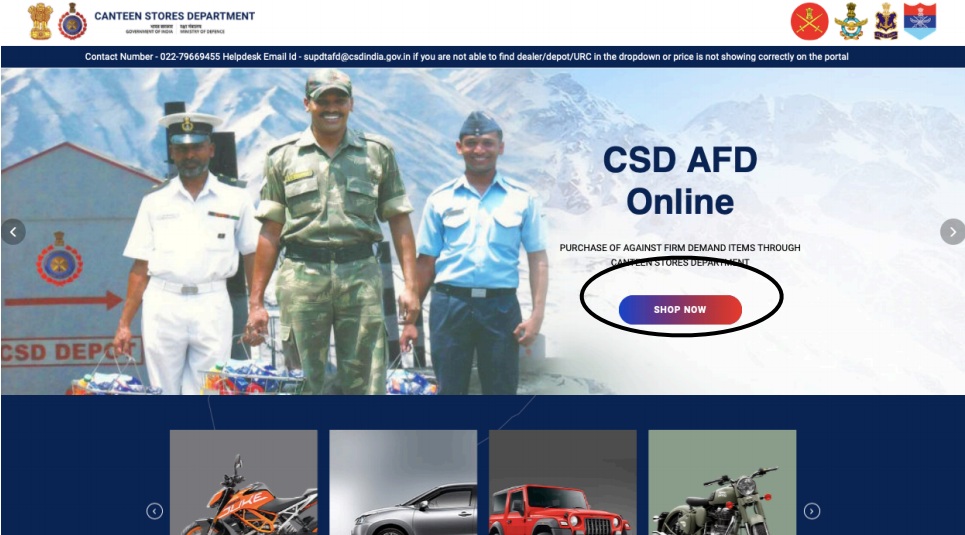 Army AFD CSD Canteen Online Registration 2023 | Military CSD Canteen Portal @ afd.csdindia.gov.in: The government of India has launched an online portal for shopping where soldiers can purchase any AFD items online from the CSD canteen. The canteen Stores Department (CSD) is an Online AFD website to purchase AFD products online. Armed Forces personnel, ex-servicemen, and defense personnel can purchase AFD items as per their eligibility through the online CSD AFD website. The process of purchasing AFD products is now simplified and eligible CSD customers can purchase AFD products through online @ cfd.csdindia.gov.in Login new registration. Get the latest News Here
Users are counseled to first register on the website to purchase goods from AFD-CSD.
This is an obligatory procedure. You can follow the registration manual for a step-by-step guide on "New User Registration.

After registration, your documents and request will be verified by officials of the CSD AFD portal.

The verification process may take a minimum of two days and a maximum of a week.

Payment can also be made through Net Banking, Debit Cards, or Credit Cards.
LS orders can also be collected from your nearest URC canteen.
CSD Canteen Online Login @ cfd.csdindia.gov.in Login
Who can buy items on the portal?
Only retired army personnel and security personnel serving in the army are the beneficiaries of this scheme.
How can I order any item from the CSD AFD portal? 
To order in an online store, you need to register yourself and you will need a card to order.
How do cancel transactions in CSD AFD online portal?
CSD customers will submit a written application with cancellation details at the URC canteen.

The nominated URC will process it to the depot soon.

In all such cases, a refund will be issued within 30 days from the date of receipt of the refund application at the prescribed URC.
When will get LS Order after payment in CSD AFD online portal?
The process may take 10 to 15 working days.

On receipt of the message, you will receive a local delivery order from your selected URC canteen.
AFDCSD Online Login Portal @ OutLine
AFD CSD Online Portal is a project launched by the Government of India. Portal launched to sell AFD products. This portal will help soldiers to purchase CSD canteen items by visiting the portal. Launched by Defense Minister Rajnath Singh, the website will sell expensive items like microwave ovens, washing machines, refrigerators, air conditioners, TVs, and laptops. Get the Upcoming Online Registration regarding Central/ State/ University Exams, Jons, Scheme, etc. Here
These items are considered in the AFD-1 category and registered users can also purchase air purifiers, dishwashers, home theaters, and telephones.

Rendering

to GOI, the web portal is a dedication to all armed forces.

To purchase any AFD-1 item, you must register yourself on the CSD AFD online portal @ cfd.csdindia.gov.in Login Registration

and have a CSD card to place your order.
You can also increase your preparation by enrolling on the page. And Naukrimessenger.com has papers from these previous years and many more papers required for your upcoming bank, Government Sector, University, Courts, etc. exam preparation. Go ahead and bookmark our website and get access to all the important study materials that will help you prepare thoroughly and ace the exam.
Who is entitled to other AFD items?
NOTE: Only the following types of canteen smart card holders are authorized for other AFD items
Army
Airforce
Navy
Assam Rifles
Coast Guard
GRFE
Other Uniformed Organisations
Defense civilians
Retired Armed Forces personnel
URCs (Unit Run Canteens) Important Statement @ www.cfd.csdindia.gov.in Login
Digital India is being given high priority by the government and as a part of this initiative, an attempt is being made to demonetize our URCs. To make URCs cashless, there is an urgent need for URCs to develop digital payment infrastructure at URCs. All URCs should enable themselves to accept all types of digital payments like UPI, and Wallets, besides Credit/Debit Card. Banks have started offering smart POS machines, which are a one-stop solution for accepting all types of digital payments linked to a URC bank account.
All URCs should approach their banks to provide free Smart POS.
At the same time, URCs should encourage customers to switch to digital payment methods. Exemptions may be given to veterans/widows above 75 years of age who are unable to make digital payments.

URCs to register on the portal and submit details regarding digital payment infrastructure at URCs and the volume of cash/non-cash transactions done at URCs.

Use URC Code & ISAM Key (Used to Install CIMS on Server) for Registration/Registration
All URCs should fill in these details accurately on monthly basis.
Benefits of AFD CSD Online Shopping Portal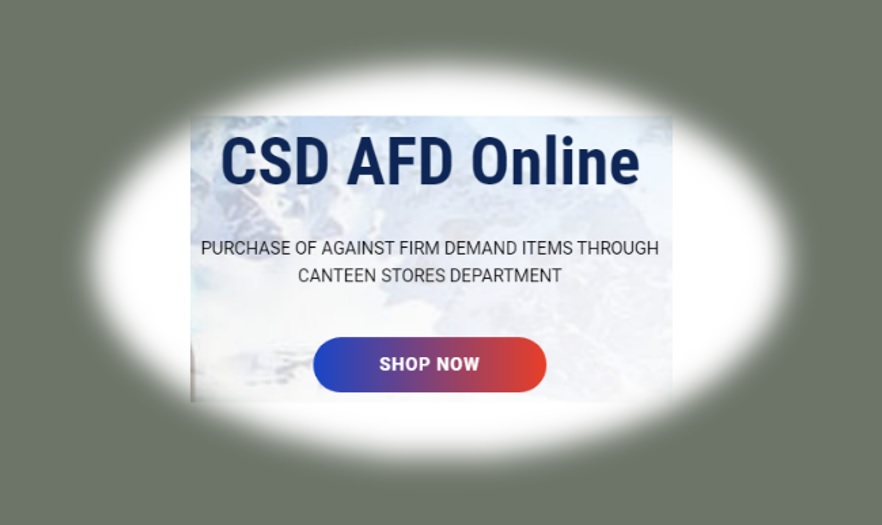 CSD AFD online portal users AFD products sitting at home
Users can visit the portal to buy expensive items like microwave ovens, washing machines, refrigerators, air conditioners, TVs, and laptops.
Service available only to armed officers (retired or serving)
CSD officers provide quality service and products at the best prices.
Buyers can pay for their purchases online to avoid any physical activity.
Registration on AFD online portal @ Required Documents
Grocery card
Canteen card
Pan card
Mobile number
Adhar card
Date of Retirement
Date of enrollment
Date of birth
Chip number printed on canteen card/ grocery bill
Card ID printed on grocery card
Name printed on canteen card.
How to Register for CSD AFD Online Portal @ afd.csdindia.gov.in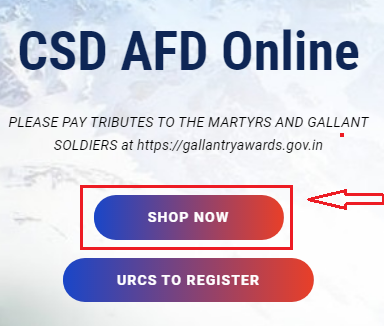 Visit the official website @ https://afd.csdindia.gov.in/

Registered users must log in first to search for products and place demand.

Click "Shop Now" to start shopping

Not a member yet? Register Now".

This option enables new users to register on the website.

Before you start registration, make sure you carry the following items like Grocery / Canteen Card, PAN Card, and Mobile Number with you for OTP verification

Enter your mobile number and Tap on 'Send OTP'. You will get an OTP Now, Enter 

After entering all the details like your Name, Grocery Card ID, Grocery Chip Number, Job Status, Company, Date of Birth, Joining Date, PAN Number, and so on, hit the submit button.

You have successfully registered. You will get a notification after the admin approves your login.
If there is already a new user with a Username/Grocery Card/ PAN number, an error screen will be displayed. No user can have the same details like username, email, etc.
Once the form is filled, press "Submit".
If the form is filled correctly. The user will get a notification as shown. The user cannot log in immediately.
After submission admin will verify the details and then grant access.
Once the form is submitted the user will receive an email. Login credentials will be invalid before approval Once the registration is approved, the user will receive an email
After logging in, the user will be prompted to enter the OTP sent to their phones.
How to make Payment on CDS India Canteen online Portal Purchase
Credit/Debit Card
UPI
Net Banking
Bank Transfer
CSD Canteen Toll-free Number
NOTE: Kindly ContactMonday to Friday between 10:00 A.M TO 05:00 P.M
| | | |
| --- | --- | --- |
| For issues related to registration: 0120-4699923 | The helpline number of the CS Directorate: 011-26181892 | CSD HO helpdesk for issues related to price/ dealer list/ depot list: 022-35104186, 022-35104185 |
Registration Link