How Much Swiggy Delivery Boy Make | Swiggy Delivery Boy salary per order 2022 | Swiggy Delivery Boy Salary Per Month | Swiggy Delivery Boy Weekly Salary | Swiggy Delivery Boy Salary Part Time | Swiggy Delivery Boy Job Profile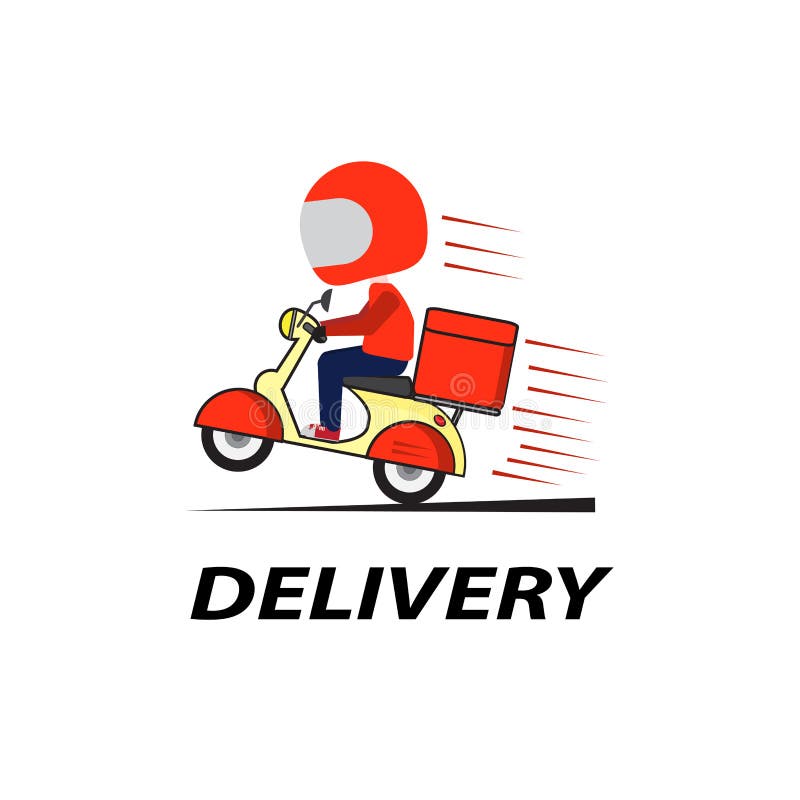 How Much Swiggy Delivery Boy Make | How to Become Swiggy Delivery Boy: 
Swiggy is one of India's largest online food ordering companies, founded in 2014. Swiggy is a delivery boy providing jobs to many as a delivery boy. If you are a student and willing to do a part-time job then Swiggy's delivery boy is the best option and it will earn you enough money. 
CONTENT SYNOPSIS
Introduction
How to Join in Swiggy
How Much Swiggy Delivery Boy Make
Swiggy Delivery Boy's Job Responsibilities
How much does a Delivery Boy Swiggy Make in India?
Swiggy Job Timings
Necessary Things and Documents required
How Much Can You Earn from Swiggy As A Delivery Boy?
Top Reasons to Join Swiggy as a Delivery Partner
How to Join in Swiggy
Swiggy Salary Structure

Minimum Salary Per Day if there are no orders

Advantages Of Being A Swiggy Delivery Boy
Disadvantages Of Being A Swiggy Delivery Boy
Swiggy Joining Process (Onboarding Process)
Conclusion
INTRODUCTION
The job of a Swiggy delivery boy is a lucrative one that pays the associates well and more importantly the payments are made on a weekly basis. This gives students plenty of opportunities to grow in their careers as they can work flexibly and on the other hand spend the rest of their time acquiring new skills that can open up more opportunities for them. In this dashboard, we will discuss how Swiggy Delivery Boy gets paid along with their salary structure, Job Profile, Timings, Part Time, Full Time Job details. & Many more. So, if you want to join Swiggy as a delivery boy, this guide will help you. Get the latest Salary Strcutues Here
HOW TO JOIN IN SWIGGY
There is no age limit to join Swiggy as a delivery boy, but you must be at least 18 years old to get a driver's license.
A Bike
A Valid Driving License and RC
PAN Card, Aadhar Card, or any other valid government identification card
A Smartphone for installing the Swiggy Application to receive orders from customers.
HOW MUCH SWIGGY DELIVERY BOY MAKE
The typical Swiggy Delivery Boy salary is ₹19,503 per month. Delivery Boy salaries at Swiggy can range from ₹6,255 – ₹40,372 per month. This estimate is based upon 30 Swiggy Delivery Boy salary report(s) provided by employees or estimated based on statistical methods. When factoring in bonuses and additional compensation, a Delivery Boy at Swiggy can expect to make an average total pay of ₹20,056 per month. Get the latest Fresher Jobs here
SWIGGY DELIVERY BOY'S JOB RESPONSIBILITIES
HOW MUCH DOES A DELIVERY BOY SWIGGY MAKE IN INDIA?
The average delivery boy swiggy salary in India is ₹ 300,000 per year or ₹ 154 per hour. Entry-level positions start at ₹ 245,000 per annum, while most experienced workers earn up to ₹ 500,000 per annum.
SWIGGY JOB TIMINGS
Now, talking about the timing of this job, Swiggy offers both part-time and full-time jobs, and you have the option to choose multiple times. You can choose the time you want to work. Times are divided into three categories. To avail of exclusive job offers, join our Telegram Channel page now!
Full Time
Part-Time
Temporary Partner
FULL TIME
| | | |
| --- | --- | --- |
| Timings | Break Time | Total Working Hours |
| 08.00 AM – 06.00 PM | 11.00 AM – 12.00 PM | 09 Hours |
| 12.00 PM – 11.00 PM | 04.00 PM – 06.00 PM | 09 Hours |
PART-TIME
| | | |
| --- | --- | --- |
| Timings | Break Time | Total Working Hours |
| 12.00 AM – 05.00 PM | 30 Minutes | 05 Hours |
| 05.30 PM – 10.30 PM | 30 Minutes | 05 Hours |
| 07.00 PM – 12.00 AM | 30 Minutes | 05 Hours |
TEMPORARY PARTNER
Optionally, work for five hours daily on three days of the week viz., Friday, Saturday, and Sunday. You have been given a break of 30 minutes. You can work more than the given time, it depends on you. Time schedules are often relevant but may change from city to city. Get the current job openings details here
TYPES OF VSWIGGY DELIVERY PARTNERS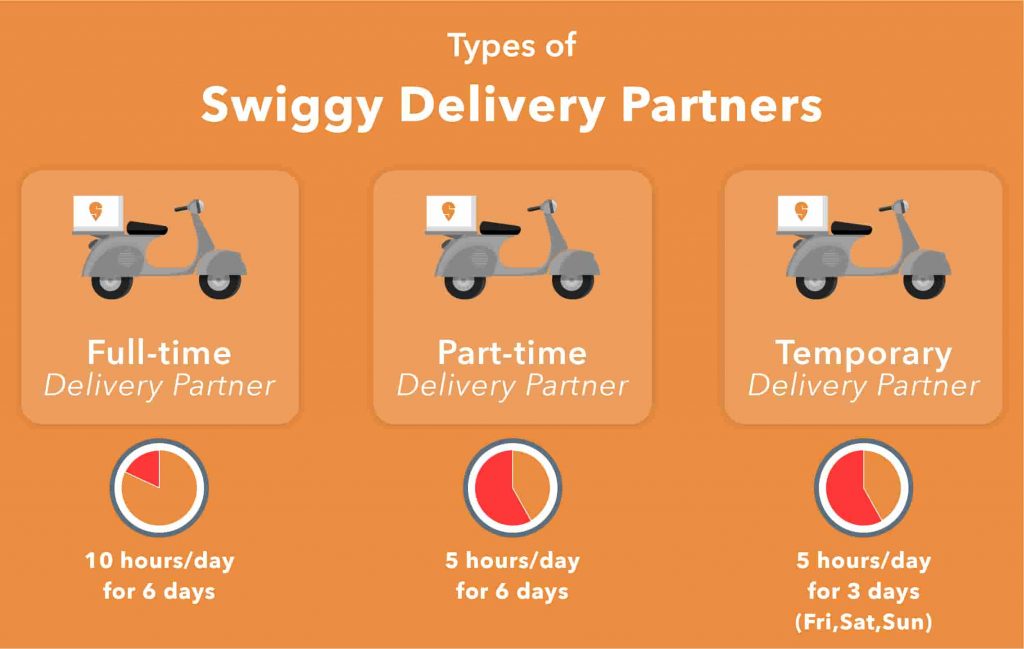 NECESSARY THINGS AND DOCUMENTS REQUIRED
Vehicle registration certificate
Valid driving license
PAN card
Bank passbook
One ID proof
We hope our article is informative. To stay ahead of the ever-increasing competition, you are strongly encouraged to download the previous year's papers and start practicing. By solving these papers you will increase your speed and accuracy. For more information check Naukrimessenger.com website for exam patterns, syllabi, Results, cut-off marks, answer keys, best books, and more to help you crack your exam preparation. You can also take advantage of amazing Job offers to improve your preparation volume by joining in Telegram Channel page!!!
SWIGGY DELIVERY BOY: Eligibility Criteria
Educational Qualifications
Grade 10th and 12th standards along with a Graduation 

More details about educational qualifications for other posts can be found in the official notification.
Limitation of Age
The age limit of a candidate should be a minimum of 18 years and there should be no upper limit.
HOW MUCH CAN YOU EARN FROM SWIGGY AS A DELIVERY BOY?
Talking about a full-time delivery boy, an average of 14 orders per day.

They get approximately 25000-26000 per month.

Delivery Boy can increase the number of daily deliveries if he can.

As a part-time delivery boy, they will earn 12,000 per month max by making 5-7 deliveries per day.
TOP REASONS TO JOIN SWIGGY AS A DELIVERY PARTNER
The flexibility of work and time
Minimum income guarantee. Earn as much as you can
No Qualification Asked
Immediate Joining
 Growth & Promotion opportunities
SWIGGY SALARY STRUCTURE
It pays DE per order, which is Rs. 15 to Rs.90 per order. It pays for distance and time. This means longer distances will cost more. It provides minimum wage for full-time and part-time DE per day. Even if DEs don't receive orders, they are paid a minimum amount per day if they log into the app and are in their designated area.
| | | |
| --- | --- | --- |
| Full-time salary structure for Swiggy | | |
| Part-time salary structure for Swiggy | | |
| Temporary partner salary for Swiggy | | |
Payment scheme
MINIMUM SALARY PER DAY IF THERE ARE NO ORDERS
| | |
| --- | --- |
| Type of Role | Minimum Salary Per Day |
| Swiggy Full-Time Job Salary | Rs.500 |
| Swiggy Part-Time Job Salary | Rs. 300 |
ADVANTAGES OF BEING A SWIGGY DELIVERY BOY
The main advantage of this job is the flexibility of the job and the time it offers to a partner. Whether full-time or part-time or temporary, they are free to choose their shift hours and their mode of work.
A minimum income per delivery area is guaranteed by the company and the income depends on the work done by the partner.

No qualification is required to take up this job and candidates who are not qualified enough can also take up this job and take their career on an upward trajectory.

Executives are in high demand, so one can easily get the job.

Payments are made weekly.

The entire application process does not take much time and one can join immediately.
DISADVANTAGES OF BEING A SWIGGY DELIVERY BOY
It involves a lot of hard work and the partner spends a lot of time traveling to deliver orders.

Transportation is a major drawback. Allies are prone to contamination.

Wearing a helmet regularly can cause hair loss or some other irritation to the partner.

Partners also have to work in harsh weather conditions.
SWIGGY JOINING PROCESS (ONBOARDING PROCESS)
Firstly, applicants have to submit the required documents for verification.

After submitting the documents, the candidate will be given a form and asked to fill in some details like job preference, address, etc.

The next step in the process is a 45-minute Swiggy App training session to train the DE on using the app.

After this, they pay a security deposit of Rs. 600 at the center itself.

This deposit is to receive a delivery bag containing a Swiggy t-shirt and a delivery bag.

Now, communication skills are checked. In this, basic English reading and Hindi speaking are tested.

It is a very simple process. After this, one becomes a Swiggy Delivery Partner.
CONCLUSION
Most importantly while earning and being financially independent. It provides stable employment and income to those without formal education and higher qualifications. At least with this minimum wage, they can put in more effort and earn more. Delivery boys are not considered employees, rather they are identified as partners. This is a welcome move as it shows that their work is appreciated and they are treated at par with other stakeholders of the company.
***THE END***