IB Security Assistant & MTS Syllabus 2023 | IB Security Assistant Executive Syllabus | IB Multi Tasking Staff General Syllabus | IB Security Assistant Syllabus PDF | IB MTS Syllabus | Intelligence Bureau Exam Pattern
IB Security Assistant & MTS Syllabus 2023 | Intelligence Bureau SA & MTS Syllabus @  www.mha.gov.in Syllabus: On this dashboard, stakeholders can view the Security Assistant (Exe) & MTS (General) Positions Syllabus, Exam Pattern, Mark allotment, Exam structure, etc. for the Intelligence Bureau (IB) examination. Check out the most recent Intelligence Bureau Security Assistant Syllabus & Intelligence Bureau MTS Syllabus PDF, Exam Pattern on its official portal. Candidates can significantly increase their knowledge and confidence by regularly using this IB Security Assistant & MTS Exam pattern & syllabus. Interested candidates who are looking for Central Govt Jobs can make use of this IB Recruitment
IB Security Assistant & MTS Recruitment 2023 Syllabus 
After knowing the Intelligence Bureau Exam Syllabus PDF & Exam Pattern, the nominee can prepare according to the type of questions asked in the Intelligence Bureau Exam. To elevate your preparation, you need to practice solving them frequently. Click here to get Engineering Jobs
It is important to have a thorough understanding of the IB Security Assistant Syllabus PDF Download/ IB MTS Syllabus PDF Download for the examination which can be perfectly understood with the help of the Intelligence Bureau Previous Year Question Papers

Solving this IB Security Assistant previous year's papers will help you to get an insight into the IB SA (Exe) & MTS Syllabus exam.

Solving IB MTS Previous year papers are also a great way of revising the entire syllabus in a time-efficient manner. 
Notification Details
Recruiter
Intelligence Bureau
Designation
Security Assistant & MTS
Vacancies/Post
Multiple
Official Website
http://www.mha.gov.in
Join our Telegram
IB Security Assistant & MTS Selection Process
The Tier-II examination is a qualifying one. Tier-2 qualifying standards for SA/Exe are 20 out of 50, while for MTS/Gen they are 16 out of 40.
| | | |
| --- | --- | --- |
| Tier | Description | Total Marks |
| Tier 1- Common for SA/Exe & MTS/Gen | Online Exam of Objective type MCQs | 100 Marks |
| Tier 2- Part I (Common for SA/Exe & MTS/Gen) | Offline Exam of Descriptive type | 40 Marks |
| Tier 2- Part II (only for SA/Exe) | Spoken ability | 10 Marks |
| Tier 3 | Interview/Personality test | 50 Marks |
IB SA/Exe & MTS Exam Scheme 2023
The online exam will last for 60 minutes/ 01 hour.
There are now 5 sections in the exam due to a modest modification in the exam format.
The CBT (Tier 1) Exam will include 100 multiple-choice questions.
Each incorrect response receives a negative marking of 1/4 of a mark.
IB Security Assistant Exam Pattern | IB MTS Exam Pattern 2023
Besides that, Exam Pattern for IB Security Assistant & MTS posts is also important to secure the highest marks. So, aspirants have to follow some prescribed study materials. For better clarity on the upcoming IB Security Assistant & MTS exams, applicants should refer to the Exam pattern & Syllabus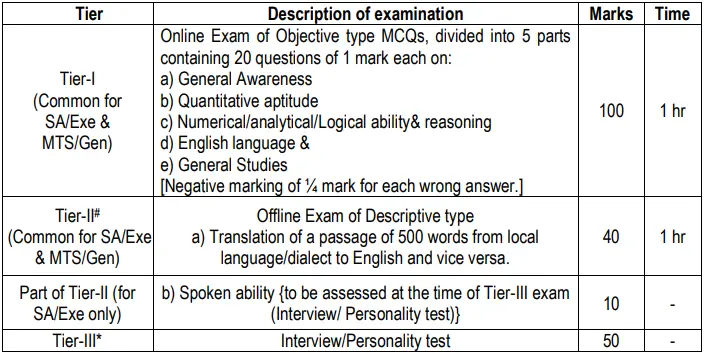 IB Security Assistant (Executive) Syllabus | IB MTS (General) Syllabus
It is important for all the candidates envisioning applying for the exam to get acknowledged with the Syllabus. The syllabus for any examination is a must, as it assists in gauging the importance of exact topics where candidates' skills are tested. Knowing the IB Security Assistant & MTS Syllabus also eases the preparation by defining the topics on which a candidate can be tested. 
IB Security Assistant & MTS Syllabus 2023: Tier 1
General Awareness
General Computer Science
Sports And Recreation
Current Affairs
Current Events Period Wise National
Current Events Topic Wise, International
Person Places Awards Authors
Economy
Science And Technology
Sports
Trade Awareness
Miscellaneous
General Topics
General Knowledge
Animals Famous Personalities
Books And Authors
First Largest Longest etc In World
Buildings Inventions And Discoveries
Calendars Languages
Countries Music
Currencies Religions added in Intelligence Bureau Security Assistant Syllabus
Dances Sanctuaries
Disasters World Organizations
Environment Statistical Data – World
Fashion Prizes And Awards
Famous Places Trade Awareness
General Studies Solar System
Universe Earth
Environment
Pollution
General Geography
General History General Concepts (Polity)
General Economics Study
General Polity
General Science added in Intelligence Bureau Security Executive Syllabus
Quantitative Aptitude
Problems on Trains
Unitary Method
Time and Distance
Time and Work
Work and Wages
Commercial Maths
Interest
Simple Interest
Compound Interest
Percentage
Profit and Loss
The partnership was added to IB Executive Syllabus
Discounts
Mensuration– Areas and Volumes
Area and Perimeter of Plane Figure
Volume And Surface Area of Solid
Elementary Mathematics
Arithmetic (Number Theory)
Number System
Square Roots
Cube Roots
Fractions and Decimals
H.C.F. and L.C.M.
Simplification
Variation
Chain Rule
Ratio And Proportion
Average
Logarithms
Additional Topics In Arithmetic
Problems on Ages
Boat and Streams
Clocks and Calendars
Clocks
Calendars
Mixture and Allegation
Pipes and Cisterns
Races and Games
Reasoning Ability
Series Test
Blood Relationships Test
Symbols and Notations
Alphabet Test
Data Sufficiency Test
Data Interpretation Test
Logic Tests
Syllogism
Statements Assumptions
Statements Arguments
Statements Conclusions
Statements Action
Non-Verbal Tests
Problems Based on Symmetry
Problems Based on Visual Ability
Classification (Non-Verbal Tests)
Series (Non-Verbal Tests)
Analogy (Non-Verbal Tests)
Verbal Tests
Reasoning Tests
Analytical Reasoning
Direction and Distance Test
Linear Arrangement Test
Complex Arrangement Test
Analogy Test
Classification (Odd Man Out) Test
Coding Decoding Test
English
English Proficiency
Idioms and Phrases
One Word Substitution
Sentence Formation
Sentence Completion
Sentence Improvement
Sentence Reconstruction
Rearrangement of Words In Sentences
Rearrangement of Sentence In Paragraph
Paragraph Formation
Paragraph Completion
Fill in The Blanks
Cloze Tests
English Usage Errors
Common Errors
Spotting Errors
Inappropriate Usage of Words
Sentence Correction
English Comprehension
English Vocabulary
Synonyms
Antonyms
Analogies
Spelling Mistakes
IB Security Assistant & MTS Syllabus 2023 – Tier 2
Translation of a 500-word text from the local tongue or dialect to English and back again (Common for all Candidates).
This offline descriptive examination will have 40 possible points and take one hour to complete.
Part 2 (Only for SA/Exe.): Speaking skills [to be evaluated during Tier-III exam (interview/personality test)]
The Tier-II examination is a qualifying one. Tier-2 qualifying standards for SA/Exe are 20 out of 50, while for MTS/Gen they are 16 out of 40.
Method to Download: IB Security Assistant Recruitment Syllabus/ IB MTS Recruitment 2023 Syllabus
Go to the official website 

On the home page, Go to the syllabus section and click the link to the IB Security Assistant & MTS


Exam Syllabus 2023 PDF

Upon clicking the link, your screen will display the IB latest syllabus

The Intelligence Bureau Syllabus 2023 can be downloaded as a PDF for further use by candidates
***BEST OFF LUCK***
We optimism you find this post about UPPSC Civil Judge (Junior Division) Exam Previous Year Papers edifying and worthwhile. Competitors can now start studying for any competitive, Government, Bank, & Other exams using our Naukrimessenger.com. This website embraces Results, Answer Keys, Salary Structure, Books, Exam patterns, Syllabus, Merit List, Cut Off Marks, Answer Key, Latest Schemes, previous year question papers & Many more. To avail of exclusive job offers, join our Telegram Channel page now!
Exam Syllabus & Pattern